Over the weekend, my husband and I decided to introduce solids to our daughter. She's almost 6 months old and has been showing interest in food. Whenever we're enjoying our dinner, she looks up at us and opens her mouth expecting to have taste. It's heart breaking, really.
This weening process is obviously one that we've never never experienced as new parents. It's not as simple as just giving your baby mashed up carrots – there's actually a lot more to it than that! This is an entire process that takes time and every family chooses to introduce solids differently.  I thought that I could take this as an opportunity to invite you on this journey with us! Surely, we can't be the only parents who feel lost at times with all of the things we need to learn about. So, why not invite you to join us during this process in hopes that we can can teach you something that we've learned and share what's worked and hasn't worked for us!
Solids are usually introduced anywhere between 4-6 months of age. We decided to wait until now as our daughter was growing well, was satisfied and full with breast-feeding and slept comfortably at night and rarely woke up for any feedings.
We decided to begin this entire process by introducing rice-cereal first. I was a bit hesitant about using rice pablum as I've heard that some doctors no long recommend it. I did some research and was told that while rice doesn't necessarily hold a lot of nutritional value, it's one of the easiest things for a baby to digest (aside from breast milk/formula). I figured that since we weren't in any rush to begin solids that we take this slowly and gradually introduce different foods to our daughter.
Baby Gourmet Foods' Creamy Brown Rice was recommended to us by my sister. It's an organic whole grain baby cereal that's gluten and dairy free, easily digestible, uses simple ingredients and is sold at Walmart (making it available to us whenever we need it). I've been mixing about 2 tbsp of cereal with 1 1/2 ounces of breast milk to start. It is quite runny but eventually I will add more cereal/less milk to make it a thicker consistency and will begin adding mashed bananas and fruit to change the flavour and add more nutritional value.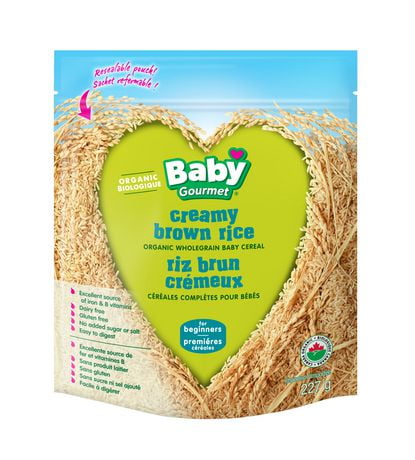 I've been feeding my daughter her cereal in the mornings and follow it up by nursing her. Once shes fed, I pump about 2 1/2 ounces from the other breast and store that in the fridge/freezer to use in her cereal for the upcoming days.
I'm going to stick with this routine for a total of one week which brings me to the weekend. On Saturday, I'll give her the cereal in the morning and once she wakes up from her first name (usually around 11:00/11:30 a.m) I'll  introduce a vegetable! I'm choosing to start with carrots – in fact I just pureed and froze them last night! I'll give her the carrots for one week to see how she tolerates them before introducing a new veggie.
I have to admit, I'm going to miss breastfeeding which is funny seeing as how much I hated it at the beginning. My hope is that I can continue breastfeeding until my daughter turns one, but I do worry about my supply depleting as she begins nursing less and less.  What I'm probably going to miss the most is how convenient it all was! Getting into this new routine will obviously be an adjustment but I'm planning on taking this one step at a time! Weening your baby can be an emotional process mainly because it's proof that you're child is growing up right before your eyes. It's times like these where you realise how quickly they grow and while it's exciting, it's also a little sad. For now, I'll just continue cuddling and loving on my baby girl and enjoy these moments that clearly go by too fast!